So a few weeks ago, I was browsing stuff online at when I spotted the most
perfect
outdoor rug for our back deck: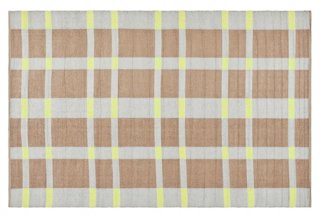 Problem? The 5'x8' rug was $230, which wasn't too bad for the size...but once you tack on shipping and handling and tax, I was really looking at least $260 or more. I actually had all of my credit card info punched into the computer and was ready to hit "submit!" but a little thing named "Sara's conscience" got in the way. Yup, my conscience would not (for the life of me!) order that darn thing. *shakes fist at sky* Whyyy?!
So I did what anyone in my situation would do...I made my own version of the rug and saved $200! My version cost less than $30.
I found a cheapie 6'x8' rug on Home Depot's website, which was only $18. Once it came in, I went to the hardware store and got two paint samples that were rated for indoor/outdoor use. Those were only about $6. I mixed the grey-ish blue with some more grey paint that I already had on hand to make a larger batch of my own custom color.
Then I got to work taping the design!
Of course, I ran out of tape half way through the project, so I had to run to the store down the street and get some more.
I used a combination of a small foam paint roller and a small bristle brush. I learned pretty quickly that if you have too much paint on either the roller or the brush, the rug will absorb a lot of it in one spot and you'll end up with blotches...which are a pain to try to cover up. So use a little bit of paint at a time and then just "reload" your roller/brush frequently!
Once I had the grey areas painted, I went back and taped off the areas for the green. I used a small paintbrush here and painted over the grey.
And there we have it! It took about 4 hours or so...not too bad, and since I like to watch movies when I'm doing longer craft projects, it went by pretty fast.
I bought some simple plastic/metal chairs for the back deck...I'm still working on acquiring a table for them, so I pulled our dinning room table outside for the picture!
Now that I think (!) that it's stopped snowing for the year (last week mother nature was giving us sleet and freezing rain!), I hope to go get some plants and set up a few containers on the back deck to help spruce it up. But at least this is a step in the right direction :)